[[LimeJet Car]]
Carsharing - convenient car rental in Bratislava
[[LimeJet Car]] - rent a car using a smartphone
Fast
registration
Everything is included
in the price
Car rental for 3, 6, 12 and 24 hours
Economical
and comfortable cars
How [[LimeJet Car]] works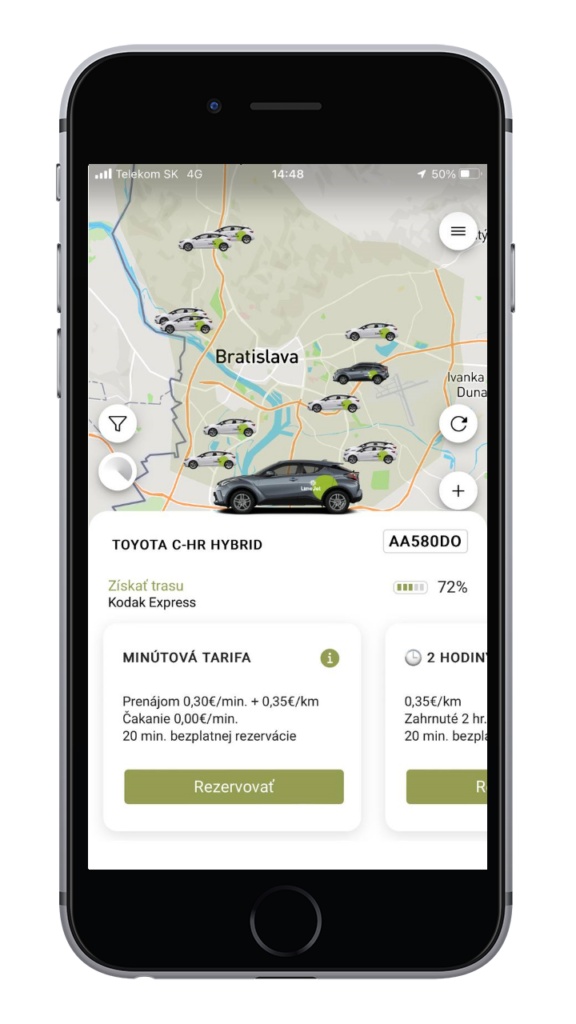 Download the [[LimeJet Car]] app

Download the app

Register in the mobile application

Choose any car on the map

Open the car through the app. Keys and documents are already in the car

End your trip in the area indicated on the map

The service is accessible and easy to use, you only need to register in the application
Where does [[LimeJet Car]] work?
Carsharing [[LimeJet Car]]
Using car sharing typically involves several steps. To do this, you need to download the LimeJet Car mobile application to your smartphone and register, providing the necessary information. To be able to rent a car, users must be over 22 years old.
After registration in the system, the user will be approved by the company manager if all provided information and documents meet certain requirements. After that, users can select available cars through the application and reserve them for a specific period. The app provides detailed information about each car.
The selected car can be unlocked using the application. The rental cost is calculated based on the time of use and the distance traveled. Fuel is included in the cost of the selected tariff!
All LimeJet Car cars are insured. Users must follow traffic rules and conditions set by the company.
Payment for car usage is made through the mobile application. The cost will be automatically deducted from your credit card linked to your account.
Complete the rental through the mobile application at an authorized location within the service area. After finishing the rental, check the condition of the car. If you find any damages, report it to customer support. The company provides technical support to users and ensures the technical functionality of the cars.
The terms of carsharing imply interaction with users, ensuring the safety and reliability of vehicles, as well as convenient and transparent booking and payment processes.